June 26th, 2011 (10:35 pm)
Everything is either in good condition or great!
Most CDs/DVDs are Region 3 (bought from Taiwan)
Any cracks/rips will be stated.
Payment by paypal.
Prices marked without shipping, total will be calculated after confirmation.
All prices are in USD!
Feel free to ask any questions!
Photobooks: $15 each
w-inds. Vacanza
Ryuichi
Ryohei
w-inds. Live Tour "ageha" x2
w-inds. Tour
Triangle w-inds. meet Junon 2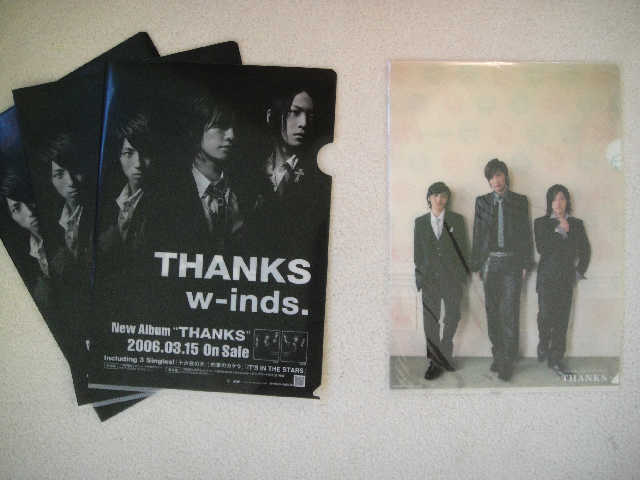 Folders: $2 each
Thanks 2006 Promo
Thanks 2006 Tour
w-inds ageha+BEST Piano Sheet Music Book $25
Albums: $8 each

1st Message
Prime of Life
Ageha (small crack on the bottom of front cover) $7
Best Tracks
Thanks
Singles: $5 each
Boogie Woogie 66
It's in the Stars
Izayoi no Tsuki
Kawari Yuku Sora
w-inds. Puzzle: $2 or $1.50 with any single

Tours: $14 each
w-inds. System of Alive Tour 2003
w-inds. Prime of Life Tour 2004
w-inds. Live Tour "ageha" 2005
w-inds. Live Tour ~Thanks~ 2006 x2
Works: $13 each

w-inds. works vol. 1
w-inds. works vol. 2
w-inds. works vol. 3w-inds. works vol. 4
w-inds. works vol. 5
w-inds.tv: $13
Tachibana Keita Koe CD+DVD $10
Tachibana Keita Michishirube CD+DVD $7
Lead Live Tour Upturn 2005 Video CD $10
Lead Upturn 2006 [4] DVD $12
Lead Movies 2 Video CD $10
w-inds.+FLAME+Folder 5 World Needs Love Earth Harmony Single $5
FLAME Truly Single $4
FLAME Mune no Kodou Single $4
FLAME Bye My Love Single $4
Ayumi Hamasaki Secret CD+DVD $10
Ayumi Hamasaki I Am...$6
KAT-TUN Bokura no Machi de CD+DVD $7
ALL MAGAZINES $5
Junon
September 2006
October 2006
January 2007
February 2007
March 2007
August 2007
September 2007
December 2007

Popolo
September 2006
October 2006
Myojo (includes KAT-TUN stickers inside)
February 2007
Cure
June 2007

Color

November 2006
December 2006
October 2010